well, here is the trick.
Most of the USB viruses make autorun.inf in your pendrive, and when you let it autoplay, the virus automatically plays into your system
that is, it infects your system.
So.. what if there is a way to make your pendrive immune to autorun.inf ? that is, the virus can't even create that autorun.inf file regardless of where you use it?
my friend, there is a way, and I am goind to show it
First thing is first, make sure that your pendrive doesn't have any autorun.inf file.
now,
go to start meny>Run>type cmd>press enter
go to the Pendrive directory.
If your pendrives drive letter is (N:) then simply write N: in command prompt and press enter.
Now, just do like the image: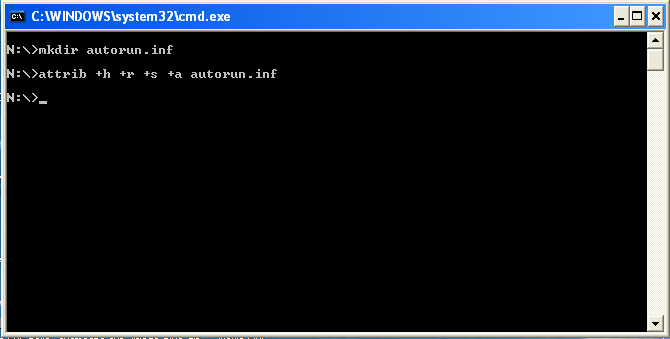 Here is the explanation:
The first command, mkdir autorun.inf makes a folder named autorun.inf in your pendrive.
so, even if there is a virus that tries to make a file named autorun.inf, it will face error.
Just like I did when I tried to make autorun.inf manually.

So, what if the virus tries to delete that autorun.inf folder ?
To seal the autorun.inf folder, we use the attrib +h +r +s +a autorun.inf command
+h makes the folder hidden
+r makes the folder read only
+s makes the folder system file(so you can't delete it easily)
+a makes the folder archived
Hope you enjoy your autorun.inf virus free pendrive!!
Founder





Course(s)

:


Blood Group

: O+


Posts

: 4187


Points

: 6605



Thanks for this awesome and tricky process.

autorun.inf is a very disgusting virus!hoping now we can make our pen
drives safe from this evil

Global Moderator





Course(s)

:


Blood Group

: A+


Posts

: 1496


Points

: 2298




_________________________________________________________________
Buddhong shoronogocchami..
dhommong shoronogocchami..
shonghong shoronogocchami..
Jogoter sokol prani.. shukhi hok.
Administrator





Course(s)

:


Blood Group

: O+


Posts

: 423


Points

: 699



here is a .bat file to speed up the process:
just paste these text in a notepad and save as a.bat:


@echo off
echo This Script Will Make Your Pendrive immune to all the viruses that use any kind of autorun.inf
set Drv=
set /P Drv=Enter drive letter of pendrive (Example: f,g,h etc): %=%
mkdir %Drv%:\autorun.inf
attrib +h +s +a +r %Drv%:\autorun.inf
echo You are done
pause



then run the a.bat
Last edited by tonmoy_roy on Thu Feb 18, 2010 4:26 pm; edited 2 times in total (Reason for editing : just a little mistake :p)
Pre-Alpha Release





Posts

: 4


Points

: 9



Tonmoy
Good to see you here
rep ++
Ah great
I have made an installer with an exe file that will even delete the hardest of all autorun.inf created by virus in your pendrive (that is, it can't be deleted even with nullifying the attributes or with antiviruses) and then immunize it.
I will have to test it, if it works, then I will ship it

Founder





Course(s)

:


Blood Group

: O+


Posts

: 4187


Points

: 6605




---
Permissions in this forum:
You
cannot
reply to topics in this forum