Well, most of you have found that your mobile has a by default IM client and you have no idea how to use it.
Don't worry, lordy is here to rescue you!!
First of all, I am giving instructions about Nokia Default IM. However, for other mobiles, though the instructions will change, the server address will not.
It should be kept in mind that your mobile's default IM will not handle all of your contacts. For example, if you set it up for Yahoo, you will only be able to see 30 predefined people in contact list.(at least that's what yahoo notified me when I first connected using mobile. however, I am trying to increase that limit, and will let you know asap I find a way :p )
So.. for Yahoo messenger, first go to that default IM. It will say that no server defined, define one?
Press yes, and you will be in the window of setting up the server address.
as the name, type whatever you like.. "yahoo chat", "yahoo" .. anything!
as the username, type
yourname@yahoo.com
(I found that I was not able to add
mirzatabassum@rocketmail.com
in my contact list even manually after setting up. Maybe.. it works for only @yahoo.com names? )
access point in use: select the default one.
password: type your yahoo username password.
server address:
http://imps.msg.yahoo.com
[cut that
http://
part if it doesn't work]
now that the setup is done, you can instantly login. But here is the
tricky
part.
after setting up, yahoo mobile messenger will say that they have made a contact list group "Y! Mobile Messenger" having 30 members(alphabetically, the first 30 members in your original contact list). I didn't find any way to rename it, or make any other contact group. So.. I guess you are stuck with that group name.
And if you want to modify the "Y! Mobile Messenger" group, I suppose only yahoo messenger is your rescuer. You need to delete the unnecessary group members, and then go to contacts, manage groups, and then copy to groups, select your most important members and then copy them to the "Y! Mobile Messenger" group.
whether this method works for 30+ members is yet a mystery for me.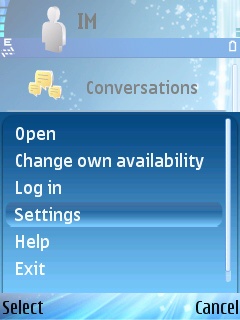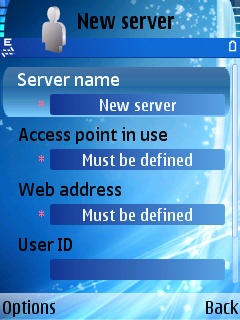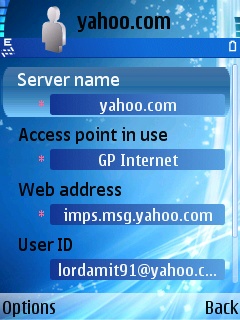 Now about Live messenger part. This one is kind of messy. Live can't be used directly, so, you need to do it through a proxy server. go to
http://mobjab.com/
for details. It also offers Xampp/Jabber support for Google Talk users.
So why are you waiting?
start Im-ing!!
Founder





Course(s)

:


Blood Group

: O+


Posts

: 4187


Points

: 6605




---
Permissions in this forum:
You
cannot
reply to topics in this forum